My 5 Favorite Samples on Sale
Our annual end of year sample sale begins this Saturday, November 23rd, so I couldn't miss an opportunity to brag about my favorites that we're including. I've also included some tips that every bride still on the hunt for her dream dress should know when shopping any sample sale.
1. Martin Thornburg 117271
This has been one of my favorites since I first laid eyes on it. The intricate beading of the bodice is delicate even when paired with the unique, bold lace that covers the skirt. The beading creates a look similar to that of a belt and really accentuates the waist. The accentuated waist helps to offset the volume of the skirt. I also love that the sparkle and bling continues throughout the whole dress, but on the skirt it is subdued by having the sequined tulle beneath the lace giving it a frosted appearance when the sun hits it. Not only is this dress amazing and the ultimate princess look it is over half off! As part of our sample sale we've dropped the price from $2,158 to $999 for our size 12 Diamond White sample.
2. Martin Thornburg 118253
The princess look is back in full force this year and I'm loving every minute of it because of dresses like this one. The bodice is a fingertip lace that is beaded with both rhinestones and pearls. The concentrated beading is so detailed that I find new things I love about it every time I look at it. The sparkle and intricacy of the bodice is balanced perfectly with a full, tulle skirt and super low, super sexy back. This dress is a modern show stopper as well a classic that no bride would regret 20 or even 50 years from now. Our sample is in perfect condition and over half off! We have dropped the price of our size 12 Ivory/Champagne gown from $2,079 to only $499!!
3. Lillian West 66002
Switching gears from the princess look I chose this dress because of its' ethereal beauty and simplicity. This dress gives me dreams of ceremony in a flower-filled meadow and a reception under thousands of twinkle lights. At first glance it may appear to be just another ivory chiffon dress, but the plunging V's in the front and the back keep it modern and a touch sexy. The fluttered chiffon lining the back and neckline are fun and flirty making this dress the ultimate combination of modern, classic, fun, sexy and most of all, it is sure to let the bride shine brightest. Our size 8 Ivory/Nude sample is on sale for the mid-blowingly low price of $299!
4. Morilee Blu 5477
I had to include this dress as one of my favorites because even though we're in Texas I just love a good sleeve. The off-the-shoulder neckline is gorgeous and gives off a very regal feeling especially when combined with its' allover Chantilly and embroidered lace appliques. This dress would be just as stunning paired with a tiara as it would be with a pair of cowboy boots. The illusion back makes sure that any bride wearing it will stop the show both coming and going and at only $499 your budget fears will also be stopped in their tracks.
5. Julietta 3176
This is one of my absolute favorites from Julietta's collection. The mermaid silhouette with corset back are perfect for creating an hourglass shape if you don't have one or beautifully accentuating the one you already have. The sweetheart neckline rounds out the top wonderfully and with the optional off-the-shoulder cap sleeve you won't have to worry about doing the strapless dance all night. If the front wasn't spectacular enough, you can always pair it with a belt to add a touch of bling. If you want to flaunt what you've got in the most spectacular way at the most spectacular price then this is your dress! Our size 20 Ivory sample is part of our sale at only $499 (original price $1189)!!
Tips for Successfully Shopping our Sample Sale (November 23rd to December 1st 2019):
Let's start with what a wedding gown sample sale actually is. Remember that episode of Friends when Monica brings Rachel and Phoebe to "Kleinmans" to purchase her dream wedding dress? Well that's a sample sale! But don't worry, our store requires an appointment for the sale so it's not such a crazy free-for-all!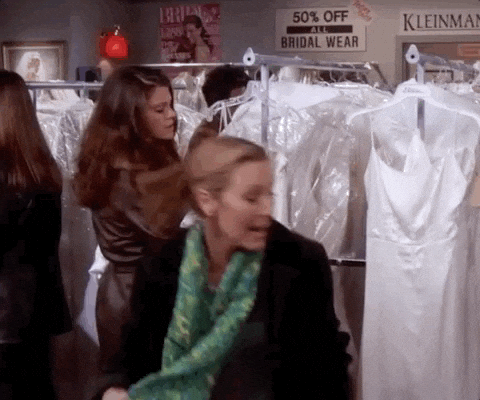 As a special order bridal store we stock "sample" wedding gowns for customers to try on. When a bride finds the perfect dress we then order the correct size and color for each bride and the dress will take several months to arrive in store. Every season we purchase new samples from our designers to bring in the latest bridal trends. At some point we need to make room for these new samples. That's when we hold a sample sale! These gowns get discounted since they have been tried on by other brides and occasionally have some wear and tear, although honestly, most of our samples are in pristine condition! This is a great time to shop if you are on a tight budget, have wedding date quickly approaching, or just like to find a great deal! We will have over half our inventory on sale up to 70% off starting at $299. We will also have bridesmaids dresses starting at $50.
So now that you know what a sample sale is, here is what to expect:
Arrive 10 minutes early
We will have some paper work for you to fill out and this will ensure it will not eat into your appointment time. Appointments will last 1.5 hours and should you be late to your appointment, it may take away from your appointment time as we will have a fully booked week.
Be prepared to buy
If you happen to fall in love with one of our samples that are on sale, be be prepared to say YES. We will
NOT be holding gowns for any reason. If you pass on it, the next bride may very well purchase it. (We may still be able to special order it if the gown is not discontinued but then you would not be able to take advantage of the sample sale price).
Payment is due in full
Because we have dropped our prices significantly for this sale, all sample gowns are sold first come first serve and must be paid in full and taken home that day. We will not be offering payment plans or storage options for sample gowns. We have gowns available for every budget starting at $299 and going up to about $1500 (special order gowns go up to $2200).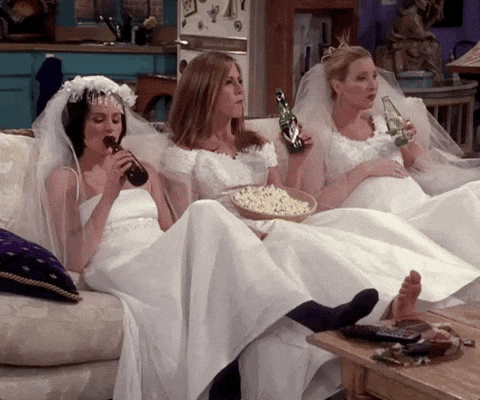 Bring the most important people with you
Be sure to bring your mother, MOH, or anyone else you feel must have say in the dress. As mentioned above, if you decide to come back later to show someone else the dress, it may not be available.
Appointments are REQUIRED and we do still have some available so give us a call today to hold your spot - 512-596-5683 or you book online by clicking here.